Bali Yoga Retreats: How to Choose the Right One for You
Are you considering Bali your next destination for a Yoga Retreat? Then you are at the right place because Bali has a lot to offer. The Indonesian province gives you a chance to connect with nature while disconnecting you from fast-growing technology.
Types Yoga Retreats in Bali
Bali offers various types of yoga retreats in Bali. With this, you get to transform your life deeply while inspiring you towards mindfulness activities.
Spiritual Yoga Retreat
The spiritual yoga retreat in the heart of Bali is the healing vacation which you need profoundly to bring out your hidden energy. During this, you get to experience your inner beliefs and truth. You create a strong connection with your soul.

On a spiritual yoga retreat, you can expect a complete renewal program while gaining the highest level of self-intellect. For those who believe in spiritual power then a spiritual yoga retreat in the perfect setting of Bali is definitely for you.
Meditation Yoga Retreat
Join Meditation Yoga Retreat to discover the self-love, self-transformation, and self-empowerment that awaits in the traditional set-up of Bali. Self-healing with meditation and yoga helps you experience new things in life.

Meditation Yoga Retreat is a detox which is necessary for mental healing. There are various meditation techniques which are being introduced during the Meditation Yoga Retreat in Bali.
Authentic Bali Retreat
Dive deeper into the oldest Balinese Watukaru Yoga by incredible teachers of the Indonesian province. Authentic Balinese Hindu culture with the finest hospitality of local Balinese people helps you reconnect with yourself while finding inner balance and peace.

During the authentic Bali retreat, students are given an opportunity to explore the tradition and culture of Bali while being involved in the practice of yoga.
Beginner Yoga Retreat
Yoga Retreat is the perfect vacation for those who want to go away from the hustle of daily schedules and busy city life. It includes various yoga asanas too that are of beginner level and so even beginner-level aspirants can join the Beginner yoga retreats.

This retreat is the best for novices who are unaware of yoga and its asanas.
Advanced Yoga Retreat
Yoga poses with advanced levels are included in Advanced Yoga Retreat in Bali, Indonesia. You can ditch a boring and busy lifestyle to join an advanced yoga retreat.
Whether you are looking to push your physical limits or deepen your spiritual connection, an advanced yoga retreat in Bali is an experience like no other. Sign up today and prepare to be inspired, rejuvenated, and transformed.
How does it feel like to attend a yoga retreat in Bali?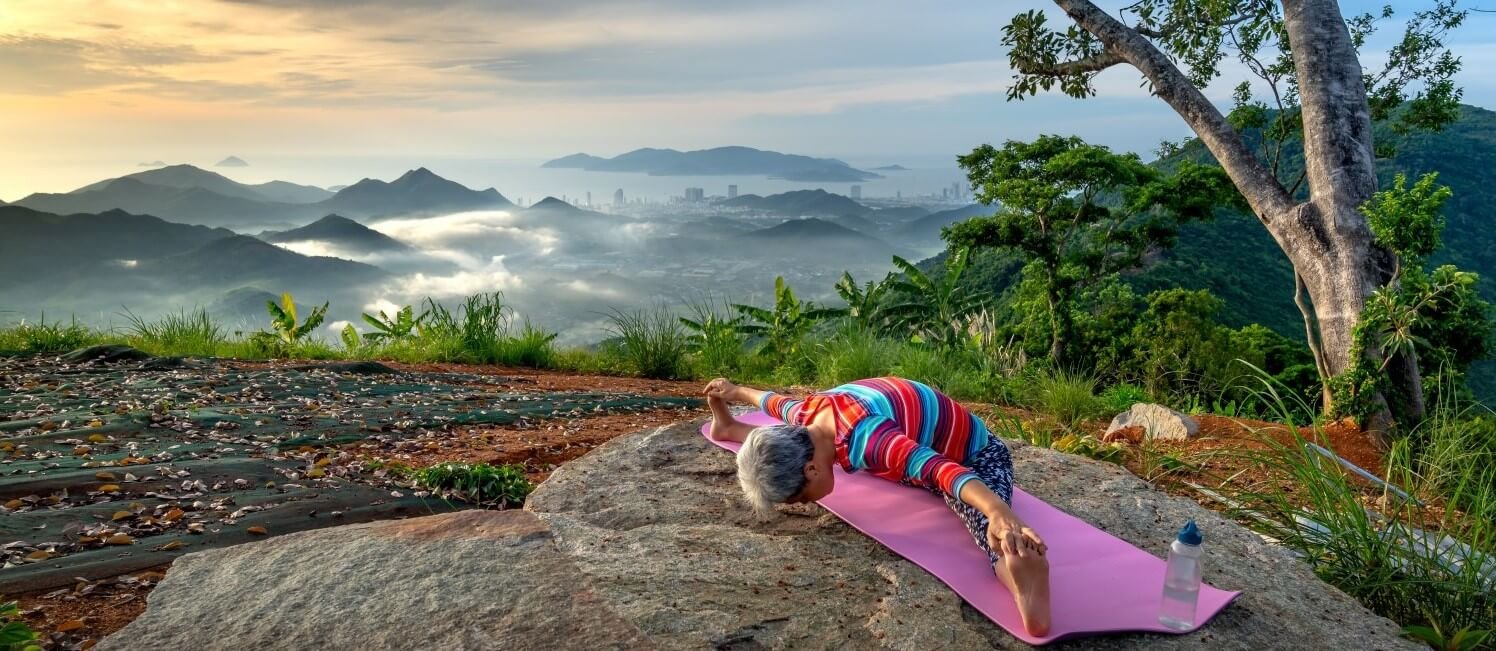 Bali is truly a hotspot for yoga in Indonesia, and even in the whole of Southeast Asia. If you are looking for a holiday destination to relax and chill, then Bali is the destination where you should definitely visit.

Some incredible days in Bali are definitely you need to recharge yourself. It will surely be fun to immerse in yoga every day.
Yoga Retreat in Bali never comes alone, it comes up with other healing and spiritual practices like meditation and pranayama, providing you with the wholesome benefits of a Retreat.

Yoga in Bali means diving deeper into the authentic Balinese culture and tradition. People from different parts of the world travel to Bali with the aim to deepen their practice and get involved in the spirit of local tradition.

Balinese people live wholeheartedly with rituals woven into them. You can feel the energy in the streets, jungle, and beaches of Bali.
Bali is indeed special when it comes to yoga and spiritual retreats. Why?

The province of Southeast Asia with incredible scenery is the place where you immediately get peace and calmness of mind. Moreover, Bali is involved in yoga for a long. When you go through its history of it, you will find out about this.

Moreover, the spiritual connection with the nature of Bali makes it special for a Yoga Retreat Program.
Also, Bali is a place where you can combine yoga with other fun activities such as surfing. Shopping and exploring cafes of Bali is a different type of enjoyment which you get to discover while being part of a yoga retreat.
Bali offers a lot for yoga lovers and holiday seekers
Pleasant weather, sunshine, coconut water.

Lush greenery with the calmness of incredible sandy beaches.

Rich and spiritual culture for the practice of yoga and meditation.

Palatable and healthy vegetarian diet.

Friendly and welcoming vibes that make you feel homely.
How a day at Yoga Retreat in Bali looks like?
A day at Yoga Retreat in Bali covers the Hatha style of yoga. Spending even a day in Bali with the program of various retreat programs helps you in the process of self-detox. The day in Bali includes 
Hatha Yoga Session

Pranayama Class

Meditation 

Traditional Ceremony of Balinese Culture

Spiritual Talk

Sound Healing Class

Spa Session

Stay amidst the thick forest area

Healthy and Tasty Vegetarian Meals and Drinks

Excursions
Tips for Making the Most of Your Retreat Experience
When you are on your journey to a yoga retreat, there are many things with which you can make the most of your retreat experience. Here in this blog, explore more about it.
Focus on yourself, not on others
Everyone has different stamina and flexibility. So, if you are on your mission to compare yourself with others, then here you are going wrong.

Yoga is not about comparing, indeed, it is about focusing on yourself. Instructors are there to help you, so, don't worry, you will make the most of it.
Don't get nervous
Yoga is not for making you nervous. It frees you from anxiety and perplexity. Keep your mind open and enjoy the surroundings.

Feel the new energy generated inside you. Let go of stress and worry and live with the people who are staying with you, with the same mindset, and the same aim.
Always open for a Question-Answer Session
You can make a yoga retreat, an immersive experience if you get involved in the session of Question-Answer. During the yoga retreat program, grab the opportunity to ask questions from teachers and instructors. It is indeed an advantage that helps you in learning much more than you actually know.
Explore Surroundings
Bali is nature's paradise. It is a beautiful place where you get a lot to explore. Get out of your learning zone for some time and discover what's in the bucket of Indonesian Province.

Believe me, this is the best healing therapy you can get. So, just enjoy and explore the Balinese culture.
Remember your goals
Why you're here? Never forgot this.

Always keep in mind that you want to be away from the hustle you are facing in your daily life. Everyone has a different aim to participate in a retreat program.

Relax and de-stress yourself and after the completion of the retreat program, cherish the accomplishment of your goals.
Have Patience
We are not telling you to not have high expectations as it is human nature. Keep expectations while having patience on the same platform.

Sometimes, it may happen that things don't go as you expected but that doesn't mean you are on the wrong trail. Practice patience, and contentment and make things happen.

Sooner or later, things will go as per your expectations, just keep patience and believe in your practice.
Never go off-limit
Never force yourself. Listen to your mind and practice as per your will. Pushing your body out of the limit might create some problems.

Bend only to the point where you can easily do it. Know your limit and practice accordingly.
How to Choose the Right Yoga Retreat Center in Bali?
There are many factors that determine the criteria to choose the right yoga center in Bali. Let's have a look over this.
Location of yoga retreat
Well, the whole Balinese location is a boon for nature lovers. It has beautiful scenery and a lush green jungle. But there are many centres which are located in between the horde of the city life.

In all these, you need to find the centre with the most serene location. Picking up the right location amidst the small place of Bali is a key step.
Duration of days/nights
It is also essential to know the duration of the retreat program before joining it. As it is a matter of time, so choose as per your availability and the time you can give to the program. The duration not only depends on your availability but also on your budget.
Yoga Retreat Package
Check your retreat package before joining the yoga retreat program. Every Bali retreat package has different inclusions. Carefully go through your need and then join accordingly.

Check what you need in your package, accommodation, meals, airport pickup, daily practices, classes, excursions, and so.
Maa Shakti Yog – Whatever You Need is Here
Maa Shakti Yog is a registered yoga school in Bali. The things that make the school different from other yoga institutions are – 
It offers authentic Balinese culture and tradition.

We work as per moral values while maintaining the rules and dignity.

We aim for you, to provide you with the best.

We create an environment where one can develop their true skills.

Maa Shakti Yog is a home away from your home.

There are many options in yoga courses and retreats to choose from as per budget and duration.

We are located in the finest set up of Bali.

We are having well-professional and experienced teachers.

We never change the traditional knowledge, indeed brings modernity to that tradition.